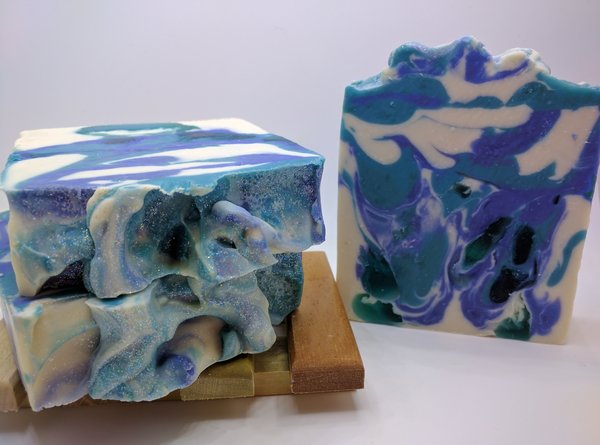 A Day at the Beach Soap
Cold Process Method
Scented with a beach type fragrance. This fragrance has such a clean and refreshing scent. A crisp blend of bamboo leaf and lemon verbena intertwined with bergamot and lush orchid. It has become one of our favorites.
Made with skin loving oils and butters for soft, moisturized healthy skin. We've added a bit of glycerin soap to this one to give some of the soap it's pretty translucency.

Contains: Olive Oil, Coconut Milk, Palm Oil, Coconut Oil, Sodium Hydroxide, Cocoa Butter, Shea Butter, Castor Oil, Sesame Seed Oil, **Glycerin Soap Base, Kaolin Clay, Mica, Titanium Dioxide, Fragrance, and Tussah Silk
**Glycerin Soap Base contains: Sorbitol, Propylene Glycol, Sodium Laureth Sulfate, Stearic Acid, Water, Sodium Hydroxide, Myristic Acid, Sodium Cocoyl Isethionate, Glycerin.
For a longer lasting bar, allow the bar to air dry in-between uses.
Listing is for 1 bar of soap
Bars weight approx 5.5oz