Black Raspberry Vanilla Bubble Bars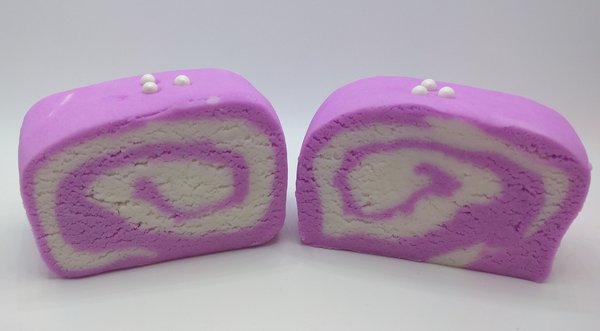 Black Raspberry Vanilla BUBBLE BARS

Bubble Ice Cream Scoops are SOLD OUT
Bubbles, Bubbles and More Bubbles!!
Each bar is enough for 2-3 bubble baths.

Oh My these smell so good.

Scented with Black Raspberry Vanilla fragrance: Ripe black raspberries are mixed with dark plum and warm vanilla.
Yes they look good enough to eat, but their purpose is to create bubbles in your bath. Also, enriched with organic cocoa butter to moisture your skin. You can use the whole bubble bar all at once, or break it into chunks for 2-3 baths depending on your bubbly preference. The more you use the more bubbles you will have! But beware, a little goes a long way!
How to use Bubble Bars: Bars are firm on the outside and soft on the inside to make it easier for you to break off the desired size piece you would like to use. Crumble the bar under running water or put in a muslin or organza bag and tie under the running tap so all the pieces melt & make bubbles. Just agitate the water to help fluff up more bubbles. Your bath will fill with amazingly aromatic & luscious bubbles.
INGREDIENTS: Baking Soda, Lathanol, Glycerin, Organic Unrefined Cocoa Butter, Cream of Tartar, Tapioca Powder, Fragrance oil, Mica, Polysorbate 80 (emulsifier)
Listing is for 1 Bubble Bar All our bubble bars come with a organza bag to make it easier for you to make massive bubbles.