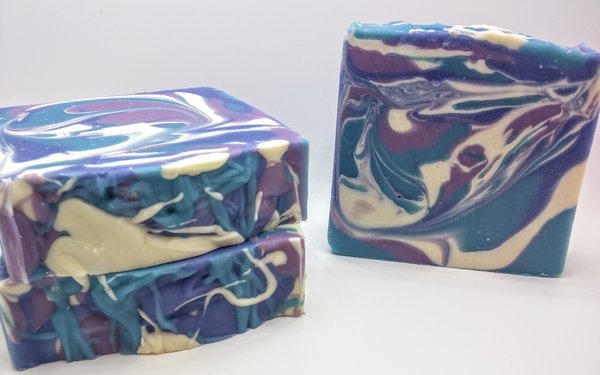 Patchouli Passion Soap
Cold Process Method
The scent is an amazingly well balanced fragrance with top notes of Orange Essence, middle notes of Patchouli, all surrounded with base notes of Warm Cedarwood.
This soap contains 4 hard butters. Cocoa Butter, Mango Butter, Shea Butter and Kokum Butter. Leaving your skin so silky smooth and moisturized.
As always we only use Phthalate Free fragrances.
Contains: Olive Oil, Water, Rice Bran Oil, Coconut Oil, Palm Oil, Sodium Hydroxide, Cocoa Butter, Kokum Butter, Shea Butter, Mango Butter, Castor Oil, Sweet Almond Oil, Sesame Seed Oil, Coconut Milk, Kaolin Clay, Colloidal Oatmeal, Heavy Cream, Titanium Dioxide, Mica, Fragrance and Tussah Silk
For a longer lasting bar, allow the bar to air dry in-between uses.
Listing is for 1 bar of soap
Bars weight approx 4.5+oz