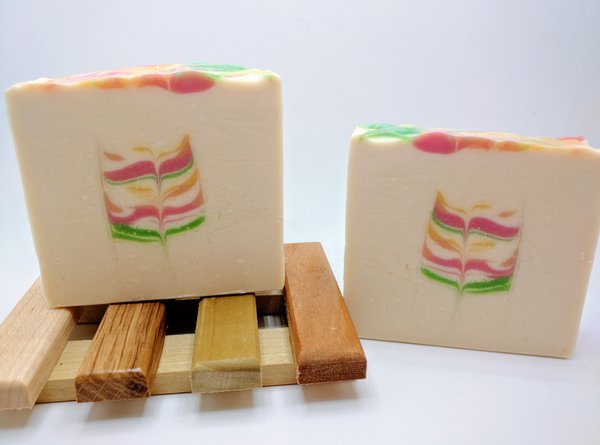 Summer Citrus Soap

Cold Process Method
Scented with a combination of two fragrances that are fruity and citrusy. It has a nice clean smell that reminds me of summer.

Top Notes: lemon, grapefruit, lime, citrus
Mid Notes: strawberry, raspberry, chambord liquor, euclyptus
Base Notes: greenery, paperwhites, orange flower

Made with skin loving oils and butters for soft, moisturized healthy skin.
Contains: Olive Oil, Coconut Milk, Palm Oil, Coconut Oil, Sodium Hydroxide, Shea Butter, Castor Oil, Kaolin Clay, Mica, Titanium Dioxide, Fragrance, and Tussah Silk
For a longer lasting bar, allow the bar to air dry in-between uses.
Listing is for 1 bar of soap
Bars weight approx 4+oz