Whipped Shower Frosting Sugar Scrub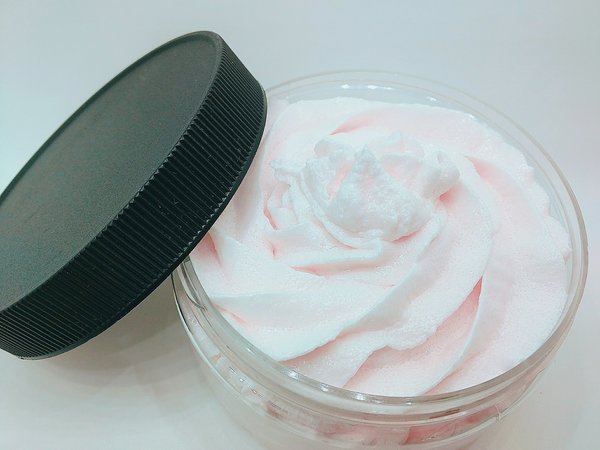 Whipped Shower Frosting Sugar Scrub...Cleans, exfoliates and moisturizes. Works wonderful for a shaving soap as well! Available in 4oz and 8oz jars.
Our Whipped Shower Frosting is a 3 in 1 product. A body scrub, a body wash and a body butter all in one.
Our Whipped Shower Frosting Sugar Scrub combines wonderful exfoliants, fine pure cane sugar and jojoba beads, added to our handmade moisturizing foaming whipped butter. With a thick, creamy texture that lathers when introduced to water and leaves skin feeling clean, non-greasy and totally moisturized. The Sugar and jojoba beads give a gentle exfoliation, while the Mango Butter and Sweet Almond Oil we add moisturize, leaving skin feeling silky smooth. So you can clean, exfoliate and leave your shower with soft silky skin.
Suggested Use: In the shower or bath place a small scoop on hand, wash cloth or bath sponge & gently massage over skin in a circular motion, paying special attention to roughest areas. Rinse well and pat skin dry.

To ensure you receive the freshest product possible, each jar of our scrub is made to order. So pick your size and pick your scent.
Contains: Pure Cane Sugar, Distilled Water, Sodium Cocoyl Isethionate, Glycerin, Cocamidopropyl Betaine, Mango Buttter, Sweet Almond Oil, Stearic Acid, Jojoba Beads, Fragrance, Mica and Preservative
Propylene Glycol Free, Phthalate-free, Paraben-free.